When it comes to offline blogging, WordPress (self-hosted) blogs gets a minus point here. WordPress developers are using Gears in WordPress 2.6 but just for speeding up the loading time of WordPress admin panel pages.
WordPress admin panel uses lots & lots of CSS files, JavaScript, etc, so every time when the page has to be loaded all the files are fetched again and again from the server. Thus slowing the load time of each page. WordPress guys made a clever move to cut down the load time of pages of admin panel. Offline blogging feature will still take a long time to exist in WordPress.
On the other hand Googlers are working hard to take Blogger offline using Gears but they are taking a very long time than expected. The only proof which we have about Googlers are working on offline version of Blogger is the below video they released this year in January. It is almost 5 months now, but still there is no sign of Gears integration in Blogger. Have a look at this video which demonstrates how this offline thingy works.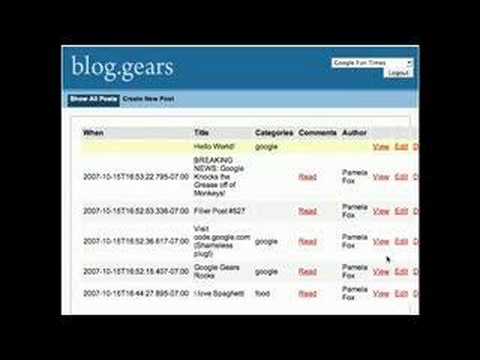 Blog.Gears is Google Code hosted project created by Pamela Fox (not a Google employee) but Googlers took the base idea from her for building up the offline tool for Blogger. Google has not yet announced that when they will be actually launching this feature. It is expected that till the end of 2008, you will get your hands on one of these and Blogger will be the first one to roll out the offline blogging feature.
You can try blog.gears here but do that at your own risk as it is just hosted by Google not built by them. It also requires you to allow blog.gears to access your Google account.
We have no idea if WordPress boys have even started on this or not?
WordPress Trac [via Digital Inspiration]
Note: Google recently changed the name of Google Gears to simply Gears.
Check Out Related Posts: