Asus Touchscreen Eeetop PCs which are expected later this year has already been caught up in a video demo. The interface is a modified Windows XP suitable for easy touch interface. The interface shows big icons for easy touchability and the unit is working except the hanging problem in the end but remember its just a early prototype. The design looks pretty much good, it sports a display of 15 inches, Express Gate technology for instant on.
Full features of Asus Touchscreen tablet:
1.6GHz Intel Atom CPU
1GB of RAM
160GBHDD
15.6-inch LCD
1.3-megapixel camera
Windows XP Home edition
Inbuilt stereo speakers
WiFi 802.11 b/g/n
Integrated graphics chipset
Here is the video Demo of Asus Eeetop at youtube: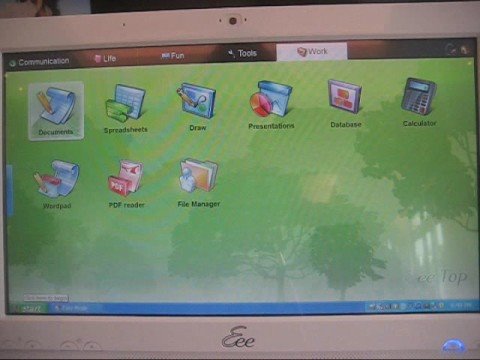 Price and availability of Asus Touchscreen Eeetop Tablet PC:
Priced at 686$  it provides great value for money compared to HP Touchsmart.
The new touchscreen tablet from Asus  will be shipping later this year.
Check Out Related Posts: