Apple has released yet another stunning wonder Macbook Air at the ongoing Macworld event. Macbook Air is the thinnest yet powerful laptop jampacked with great features and that too maintaining a slim profile. Air Laptop is equipped with a 1.6 GHz or 1.8 GHz Intel Core 2 Duo processor with 4 MB L2 cache, 2GB of 667MHz DDR2 SDRAM, 80 Gb 1.8 inch HDD . The Macbook Air also sports the Wireless connectivity Wi-Fi 802.11n standards along with the Bluetooth 2.1 A2DP .
Full features and specification of Macbook Air:
13.3 inch widescreen display
1.6 GHz or 1.8 GHz Intel Core 2 Duo processor
2GB 667 MHz DDR2 SDRAM
WI-Fi 802.11n
Bluetooth 2.1 with A2DP( advanced audio digital profile)
Weighing just 1.36 Kg
80 Gb HDD
Multi touch trackpad
USB port and headphone port
Comes with Apple's iLife '08 software
Energy efficient and Eco friendly
5 hours of backup
Comes pre-installed with Apple's OS Leopard
"We've built the world's thinnest notebook—without sacrificing a full-size keyboard or a full-size 13-inch display. When you first see MacBook Air, it's hard to believe it's a high-performance notebook with a full-size keyboard and display. But it is," said Steve Jobs, CEO, Apple.
Apple's Macbook Air will be start shipping within two weeks from now and will carry a price tag of $1799( Rs 71,500)
Update:
Macbook Air hands on youtube video :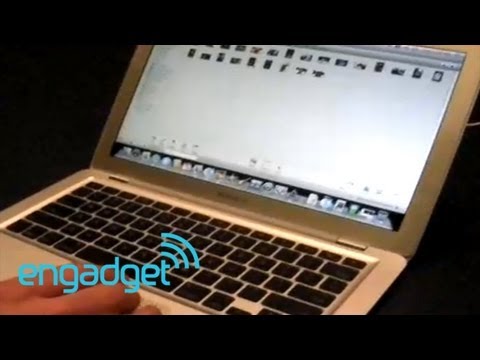 Check Out Related Posts: