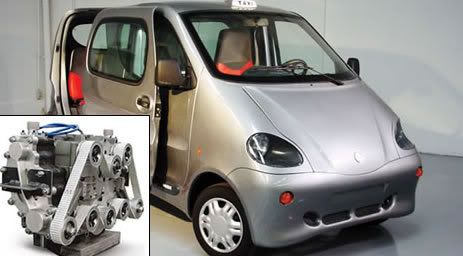 The new car which will be the world's first car to be powered by compressed air is set to launch on India next year by TATA motors, India's largest Automobile maker. This car is a innovation of ex-Formula One engineer Guy Negre (Head MDI group) in collaboration with TATA motors .How it works?
The new automobile technology uses the compressed air as a means to push its engine pistons and is expected to be reasonably priced and its top speed will will somewhere around 68 Mph with driving range upto 125 miles and wait!!! it is not completely emission friendly it still does need energy to power it compressor but the carbon emissions per mile are still very low as compared to other gas based car in the market.
(Click on Read more to expand)


The Air car is made of light weight carbon fibre constuction also the TATA motors are working on a Hybrid version which will use the gasoline powered compressor for more efficiency.and it will be energy savvy, eco friendly and low on price too ,TATA motors expect to produce 6,000 units by 2008.

The car may not be fully emission free but it will definitely cut down the cost of fuel to a much extent and will be far better the present car technologies.

Check Out Related Posts: