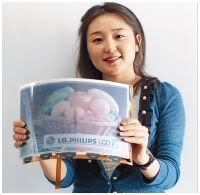 LG.Philips has developed a flexible LCD colour display which is of the size of A4 paper, is amazingly
300 micrometres
(0.3 millimetres) thin and is being said to be a next generation display technology.The epaper sports bendable viewing experience like a real paper and can display upto
4096 colours
.The interesting part is that it can be viewed from a full 180 angles that is it is having a
viewing angle of 180 degrees
which is great for others to peek into.
(Click on Read more to expand)

It uses TFT on a metal foil and plastic substrate instead of glass substrate which makes the epaper flexible and durable and at the same time to possess excellent display quality.
Summing up:
-14.1-inch electronic paper
-300 micrometres thin
-4,096 colours
-Full 180 degrees wide viewing angles
-Energy efficient
-Display is clear even when the epaper is bent
These displays require power only when the image changes hence are power savvy too.
Check Out Related Posts: