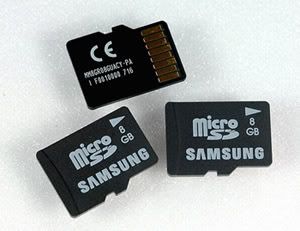 Technology is moving in a very rapid way with new and amazing technological innovations being developed daily. Now its time for the high capacity Micro SD cards from the Samsung, Samsung electronics today announced that they have developed a whooping 8 GB MicroSD(secure digital) card for the mobile devices . which is the highest capacity for the mobile devices available today. Now its time to think what we can have in this small fingernail sized card …well it can hold upto 2,000 Mp3 music songs, 4,000 digital photos and approximately 5 DVD quality movies.
(Click on Read more to expand)
That was according to the press release but according to me a lot more can be stored in that tiny card, A normal compressed movie for mobiles is avaible for around 60-100 MB filesize…so now you can have the rough idea of how many movies you can store in your mobile…thats just portability moving to the next level.Also the MicroSD cards are a quarter of the ordinary SD cards and are backward compatble using a extender.Also this is the record breaking achievement in the field of MMC's.

Now Features:
Read speed of 16 Megabytes (MBs) per second
Write speed of 6MB/s
It has Surpassed speed Class 4 SDHC (Secure Digital High Capacity) standard
which requires data write speed of 4MB/s
via press release
No info about the pricing yet.
Check Out Related Posts: