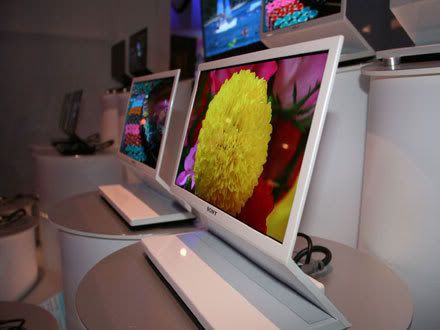 Sony to bring Revolutionary display technology that will replace the LCD's and Plasma screens used nowadays in HDTV's.The latest display technology will be based on the OLED(organic LED) technology.
According to Sony it will be releasing its 11 inch Organic LED display TV first in Japan if everything goes ok than Sony will be far ahead of its competitors Panasonic and Toshiba in display technology ,the companies are currently working(researching phase) on OLED technology jointly on the new OLED display technololgy for TV's,while Sony has already done it .
OLED the Organic light emitting diode uses the same method used by the fireflies to emit light , rather than depending upon the backlight which results in a brighter , crisper and smoother image.(Click on Read more to expand)

Main features of Sony's breakthrough technology :
-Sony's 11 inch OLED display is only 3 mm think.
-It uses no backlight,polarizers and filters.
-Cost of production will be less once the mass manufacturing starts.
-thinner and lighter.
-consumes less power.
Sony first showed off its 11-inch OLED TV, along with a 27-inch prototype,
in January at the Consumer Electronics Show in Las Vegas. "The reaction was
extremely positive," said Barry Young(market researcher), who was at the show.
"People were crowded around it for hours."
The new technology holds promise as the display technology of the future.

Check Out Related Posts: