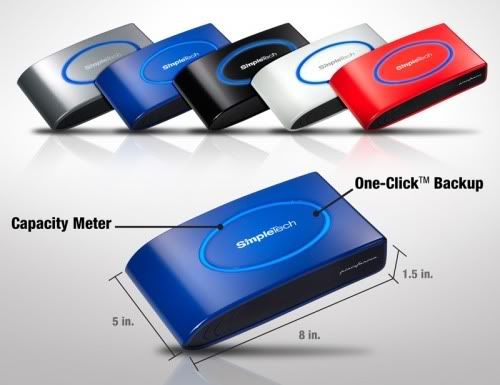 So finally a USB drive with capacities upto 1TB are here. SimpleTech's SimpleDrive boasts of expanding the capacities of the USB based storage devices upto 1TB ,the 7200 rpm USB 2.0 drives come bundled with one click Backup softwares ,a 2GB Fabrik account , it also have a lightup capacity meter which will let you know how much your drive is empty or full.
(Click on Read more to expand)

Various flavours are available :
Gray for 750 GB and 1TB
Onys for 500 GB
Sapphire 320 GB
White 250 GB
Red 160 GB
Firewire version will ship in May.
Price range starts from 100$ for 160 GB.
Read our related post on Teradisk: optical media which can store upto 1TB

Check Out Related Posts: